Overview
Handheld Toy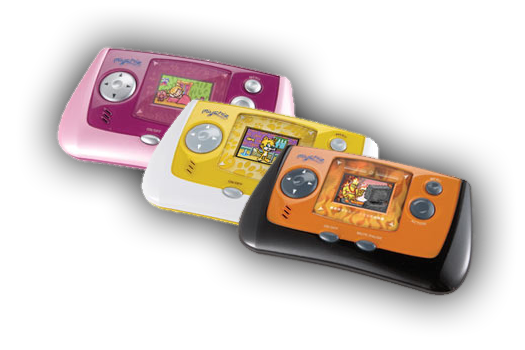 Three Miuchiz Handhelds
Bratz Cloe, Pawz Spike, and Monsterz Inferno.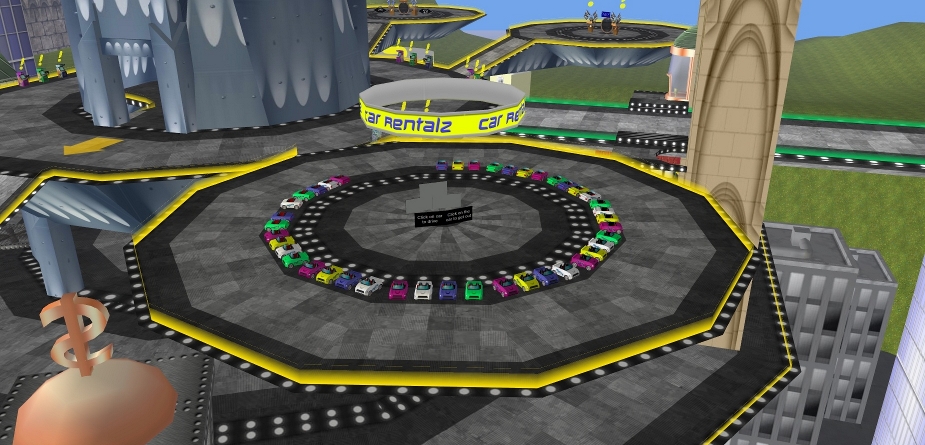 Planet Mion
Miuchiz players can rent cars and play games in The Core.
Miuchiz was an award winning* children's video game launched on August 1st, 2006 by MGA Entertainment. Miuchiz consisted of an interactive handheld digital character that could be transferred to the online world Planet Mion to interact with other players in realtime.
7 Miuchiz characters and their respective handhelds were released, in 3 groups:
Miuchiz Monsterz

were marketed towards boys and consisted of a fire monster named Inferno, a rock monster named Roc, and a plant monster named Creeper.

Miuchiz Pawz

were marketed towards both genders and consisted of a dog pet named Dash, and a cat pet named Spike.

Miuchiz Bratz

were marketed towards girls and consisted of two Bratz Babyz characters, named Cloe and Yasmin.
Both the Miuchiz handhelds and the online multiple world Planet Mion allowed players to play games in exchange for the ingame currency called creditz, buy clothes, food and toys, and use those items on their character. These activities increased the Miuchiz character's "Happy," "Fed," and "Fun" stats. Creditz, stats, and inventory were transferred back and forth between the handheld and Planet Mion using a USB cable integrated into the handheld device.
Online interaction in Planet Mion was the primary multiplayer usage of the Miuchiz handheld devices. However, in addition to online capabilities, Miuchiz handhelds had a wireless transceiver for interactions such as trading with other handhelds. This way, two players could interact within a few feet of each other without a connection to the internet.
Planet Mion
Planet Mion was the online, 3D Miuchiz world. Players could use their internet access to connect their computer to an online community. Miuchiz could play games, go exploring, and chat together online. Items could be purchased ingame for the Miuchiz character just like on the handheld, but there were new games not featured in the handhelds. There were about 20 2D games powered by Flash that were accessible through arcade machines, and there were about 20 3D games accessible through portals. To organize games with friends, there was a "Buddy list" which allowed players to quickly contact and move to their friends' locations.
In addition to games, there were landmarks and other interesting locations for players to meet and hang out at, such as a hotel, a black fountain, and secret islands in the ocean. If those weren't appealing, a player could go explore one of the four main territories:
The Core

was the territory in the center of the map, where all players started.

Ruin

was the territory of the

Miuchiz Monsterz

, and was located northwest of The Core.

Haven

was the territory of the

Miuchiz Pawz

, and was located east of The Core.

Boomtown

was the territory of the

Miuchiz Bratz

, and was located southwest of The Core.
Normally, only the type of Miuchiz that corresponded to a territory could enter. However, items called passports were sold for creditz that would allow any player to enter any territory for as long as the passport was active. If a player was in a territory without a passport, they would be teleported back to The Core.
Planet Mion was powered by the ActiveWorlds client, and was its own universe separate from the official ActiveWorlds universe. The universe of Planet Mion ran from 2006 to February 1st, 2012, when it was finally closed. Its closing is the reason Miuchiz Reborn exists now.
More information about Miuchiz and Planet Mion can be found on the Miuchiz Wikia.
*Miuchiz won Dr Toy's 100 Best Children's Products of 2006